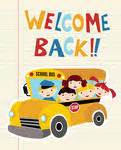 Hello mummies & daddies!
Welcome back! I hope you have all had a great time during the Xmas break. Please remember to send back your child's fleece, set of headphones and winter spare clothes.
I would also like to update our Lost & Found section, so please let me know via the diary if you are missing any article of clothing as well as whether it was marked with your child's name. If it wasn't, any details that may help me identify it, such as size, unusual stains, etc. 
Thanks,
Miss P.