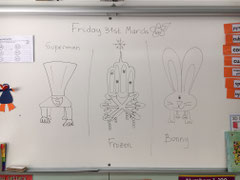 Hello mummies & daddies!
This week's homework is to design a chair, following in the footsteps of Charles Rennie Mackintosh!
I have explained to the kids they need to choose what they are going to be inspired by first. It can be an animal, a superhero, a film, etc. Then, they have to think how their chair is going to remind them of whatever it is that has inpired them.
Finally, they draw their chair on the worksheet that they are taking from school. To give you a clearer idea I am including a photo of our whiteboard this morning during the explanation.
Enjoy!
Miss P.